Home > Tapping Strategic Opportunity > Measuring Success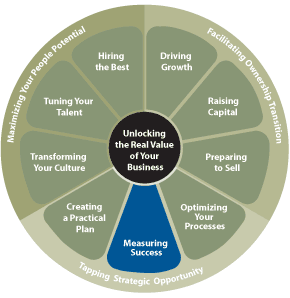 We develop the Key Performance Indicators ("KPI's") to help you define and measure your success in achieving organizational objectives. KPI's must reflect the organization's goals, be the key business drivers, and they must be measurable. Each KPI should have a target and must be limited to things that truly make a difference in the company's success.

Our partners have varied financial perspective with experience at the corporate CFO/VP level, cost accounting and analysis, budgets, forecasting and controls to assist you in defining the KPI's of your business.
We work with you to utilize these KPI's to develop a plan to improve the value of the business.
We develop various scenarios which allow you to evaluate the impact of alternatives on the performance of your business.
Understanding helps you identify future success

Understanding your key business drivers lets you accurately identify successes as well as problems and proactively manage your business for greater success. Timely information enables you to react to market trends with greater speed, leading to competitive advantage.
Understanding the KPI's of your business allows you to measure your progress by setting targets and measuring them, and at times showing you when to raise the bar on performance.

You are also able to spend your time more efficiently learning from and acting upon the data.
KPI's act as incentives to motivate people to improve their performance.