Home > Maximizing Your People Potential > Hiring the Best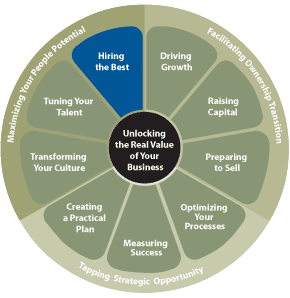 We view executive recruiting as an integral part of Maximizing Your People Potential and building value in our clients businesses. Our work begins by identifying the gaps that prevent our clients from successfully executing their strategy – we identify the key roles, responsibilities and accountabilities that will drive the business forward.
We see recruiting from a very different perspective than typical firms. Our focus is on recruiting those senior level executives who will truly change the nature and value of your business.
We also help to establish the appropriate governance structure for the business by creating advisory and formal boards. Our approach is to link your business strategy and execution through recruiting the best executive talent to your business. We help to create sustainable competitive advantages for your business.

Questions / issues we help you resolve:
Do you know what characteristics and skills to look for in key hires?;
Do you develop and reward leaders who excel at hiring top talent?;
Do you know what skill sets need to be leveraged to grow your business?.
Our activities include recruiting of both interim and full time executives. We are also experienced in improving governance and adding value to your business.

We start by developing an understanding of your needs; we then create a specific unique job specification and develop search strategy with your input. Then we work to quickly identify several benchmark candidates, while continuing to interview other potential candidates. This allows us to quickly identify the best profile and to present candidates that will meet your expectations. After hiring, we maintain contact with the successful candidate to ensure their success in your business.
Our partners bring their industry experience and functional expertise to assist you in making the right hires.