Home > Maximizing Your People Potential > Transforming Your Culture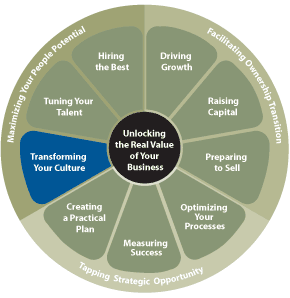 The culture of your business may need to shift to react to change such as growth or competitive pressures. Our experience in transforming culture and in the change management process can help guide you through this important stage.
The need to transform culture can also arise in business mergers, acquisitions, spin-offs, divestitures or corporate restructurings. Careful change management planning must also be addressed in situations involving the introduction of new technologies, processes, re-engineering or other company-wide initiatives.
Our Partners can act to facilitate cultural change within your organization.
We have specific experience in the following situations:
Post acquisition integration;
Employee assessments to see who fits and how teams function;
Recruiting of interim or full-time executives to lead transitions;
Transforming the company culture;
Creating retention strategies for key employees in times of change.

Our work includes:
Due diligence and gap analysis;
Process mapping of current state and desired future state;
Business change awareness management;
Measurement and continuous process improvement, quality assurance.

Clients who work with us experience the following benefits:
Accelerated transition of their business;
Reduced costs;
Increased visibility to business processes and performance levels;
Assurance of successful outcomes;
Increased adoption of new processes;
Building a foundation for continuous process improvements.