Home > Facilitating Ownership Transition > Preparing to Sell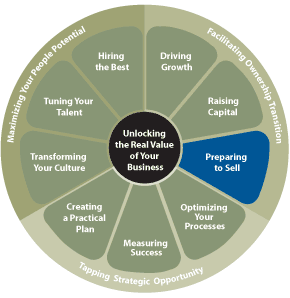 The sale of a business represents a culminating event in the process of unlocking its real value, whether selling to family members, employees or an arm's length third party. We recognize that the decision to sell can also be an emotional process and as such it should be grounded in a careful examination of objectives and outcomes, leading to a firm commitment to a course of action.
Kilbride can help you realize the highest value for your business and accelerate your path to exit. Our experience as transaction advisors has taught us that every business is unique. As a result, we design a business transition process that accounts for your unique circumstances and objectives. We understand the different processes and approaches needed when undertaking a 3rd party sale vs. a sale to employees vs. a sale to family. We work with you to review your exit options and develop a solution that is practical and tax-efficient.

Selling to 3rd Parties

Since there is no organized market for private companies, having the ability to find the most suitable buyer requires that the owner and the advisors 'make a market' for the business. We view the selling process as a multi-step process that begins with the decision to sell and concludes with managing the transaction process. Kilbride has the understanding needed to manage all aspects of this process, thereby helping the business owner minimize disruptions and operate in the normal course.
Selling to Employees

When a 3rd party sale is not feasible or desirable, selling to key management or employees often represents a viable exit strategy. While employees and management are loyal and possess deep understanding of the business, it is important to ensure that there is structure and discipline to the process. As such, this process must be actively managed to ensure that a fair price is realized, and so negotiations are efficient and timely.
Selling to Family:
Keeping a business in the family requires a careful balancing of emotional, financial and business considerations. An issue commonly encountered in selling to family is determining what value to attribute to the retiring shareholders shares, and how this value will be realized. This raises a host of other issues including tax planning and wealth equalization, not to mention determining who in the family will ultimately seize the reins of power.
Kilbride's role in Preparing for Sale or Transition includes:
Business Valuation: assessment and perspectives on the expected financial realization when selling to family, management, private equity, or strategic acquirers;
Development of information memorandums and other collateral for purposes of soliciting investor/buyer interest in the marketplace;
Identification & solicitation of prospective investors and buyers including access to Kilbride's own network of private equity investors;
Negotiation and Facilitation of the selling process or the capital raising process according to defined engagement parameters;
Transaction Management: co-ordinate the various advisors (legal, tax, accounting etc) involved in the transaction process;
Transaction Structuring: strategies to maximize after tax proceeds including sale of shares vs. sale of assets, estate freeze options, employment continuity, and forms of consideration.
Our experience across all available "exit" options will enable clients to make the most informed decisions possible when choosing the form of exit that is appropriate for them.